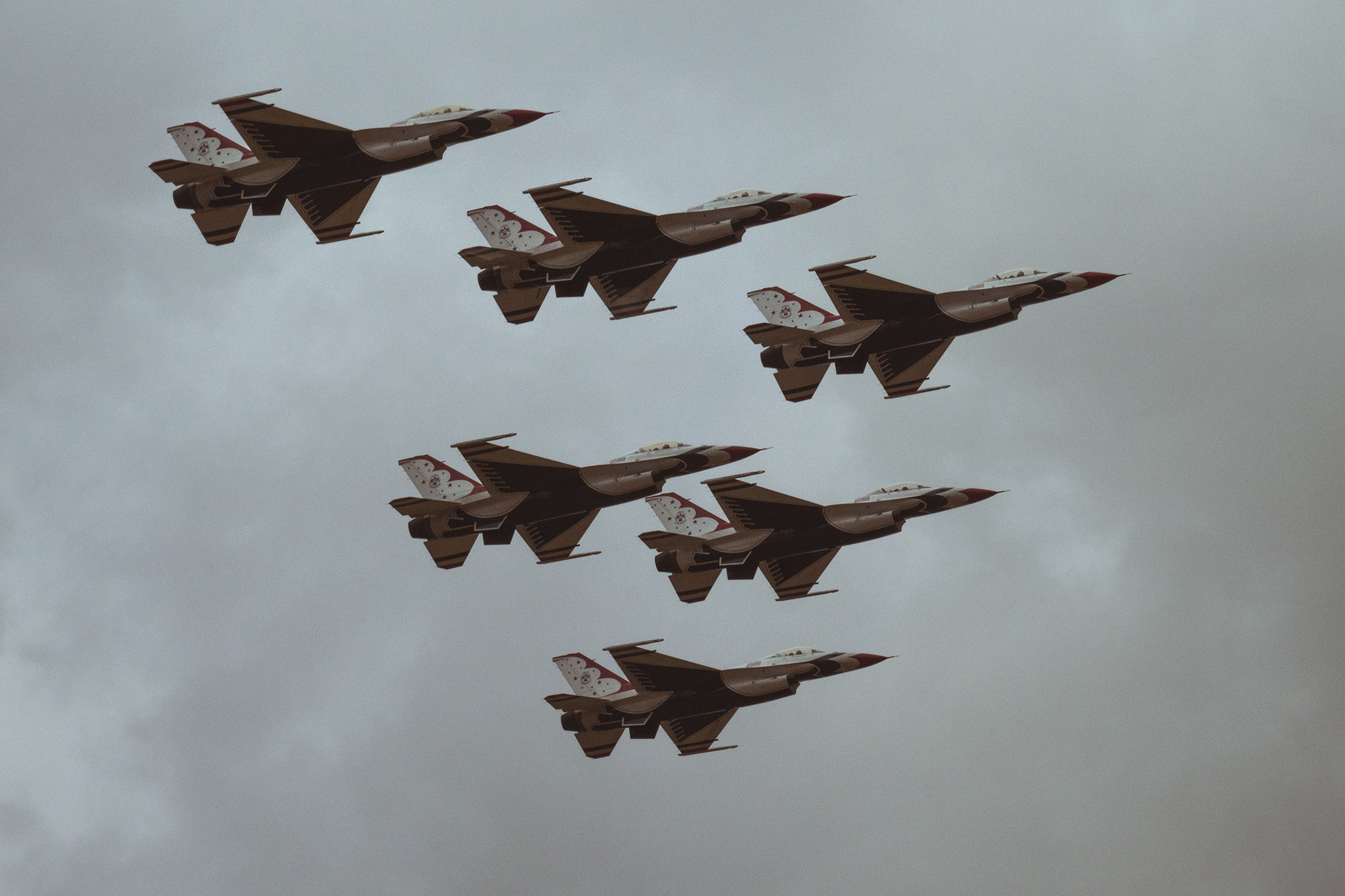 Summary of the Synereo Controversy (updated December 12th, 2016)
The Synereo team is currently fracturing and the future of the project is uncertain. Here's our summary of how the project got here and what options are on the table.
---
Update December 12th, 2016: The Synereo LTD shareholders meeting has voted to cancel Greg Meredith's employment contract and remove him from the board.
What's next: Summary of the results of the shareholders meeting.
Scenarios for Synereo: options not supported by the shareholder's vote have been moved to an appendix.
Unresolved Controversies: Synereo contacted us to clarify their status as an open source project.
RChain becomes Ourchain? Follow the continuation of Greg's blockchain work on Ourchain's Slack.
Update December 8th, 2016: We have made some additions in response to a blog post written by a former member of the the Synereo core development team.
Unresolved controversies: Who owns Synereo's technology?
Previously, we estimated a refund would constitute a "haircut" of 33%. We've updated that rate to 17-33%.
Clarified some of the context around the video's release.
Update December 7th, 2016: We have made the following changes to reflect newly available information.
Scenarios for Synereo: Synereo released a memo clarifying it plans to move forward without RChain and will try to oust CTO Greg Meredith at an upcoming shareholders meeting.
Added a section on how 34% of crowdsale funds are unavailable.
Update to the time of the Monday, December 12th shareholders meeting.
Background on the Controversy
Synereo was designed to integrate social dynamics into distributed systems: not just a social network but a social layer that any protocol can use and upon which many distributed applications can be built. Synereo is built on top of a new programing stack that promises high levels of security and easy scalability. The stack includes a new base blockchain–RChain, developed by Synereo CTO Greg Meredith. It also includes a layer for storage and content delivery and a new smart contracting language.
It was an ambitious project with support from those interested in foundational architecture and those who were building or imagining social-oriented distributed applications. On October 19th, 2016, Synereo completed its second crowdsale, successfully raising $4.7 million.
On December 1st, someone posted in bitcointalk a recording of a long meeting of the Synereo team. The video (broken into four parts) reveals a deteriorating deteriorated relationship between CEO Dor Konforty and CTO Lucius Gregory Meredith (Greg). It appears to be an unplanned meeting called by Greg to discuss the future of RChain and Synereo. Greg references a budget document that had reduced levels of funding for RChain relative to what he had requested. Shortly into the meeting, he asks Dor to step down as CEO.
Synereo has said that the meeting was actually broadcast live to the community. A complete backstory hasn't been released by either party at time of writing, although a recent blog post from a former employee suggests that Greg and Dor have had difficulty working together for at least much of 2016.
Dor v Greg: A Summary of Positions
There are many hours of video and pages of discussion available for review. It makes for painful watching. From our perspective, it boils down to the following accusations.
Greg says that the project is at risk because Dor doesn't understand the resources required to develop a programming stack and is starving the Rchain project.
"Either [Dor] doesn't understand how software is developed or is … wanting to starve the effort [RChain] where it's not possible to meet the already ambitious timelines."
Dor, on the other hand, states that he's lost confidence in Greg's ability to deliver on his promises. He notes that the RChain project is already more than two months behind its post-crowdsale schedule and Greg hasn't produced any usable code.
"For the past two years [Greg] has not shown that he's able to deliver any piece of functioning code."
The release of this video spurred a flurry of activity on the Synereo bitcointalk forum, Slack channel, and Poloniex–although the price of AMPs had started falling before the video was posted.
The video and ensuing discussion chronicles a struggle between Dor and Greg regarding the future of Synereo and RChain. Whatever happens next, the Synereo project is on the verge of radical change.
Unresolved Controversies
The infighting between Greg and Dor has spread throughout the Synereo community, with many members voicing strong support for one or the other. There are several critical issues at play that will need to be addressed, clarified, and resolved regardless of the outcome of negotiations.
Synereo without RChain = ??
Some of the crowdsale participants were attracted to Synereo's idea of a decentralized social network driven by the attention economy. Others were attracted to the innovative (and potentially transformational) blockchain tech RChain promised to develop. Both groups want to see their visions realized.
As a result there is a strong polarization among AMP holders. Some want nothing to do with Greg moving forward, believing that another blockchain developer can take his place. Other's see Synereo's social network as less important than the underlying blockchain. They feel strongly that they were investing in Greg's vision for RChain, and that only Greg can reliably produce it. They don't want anything to do with a Synereo project that isn't built on RChain.
In a recent blog post, CoinFund, a crypto-investing thought leader with a public stake in Synereo, has expressed this viewpoint.
"Our intention as investors was to directly support and fund the RChain product team. . . .we did not see Synereo as having particular competitive advantage over incumbents other than being built on a truly promising platform".
This is a sentiment shared by a number of AMP holders who feel like they were throwing their support primarily behind Rchain. If Greg is forced out of the Synereo project, it seems likely that some AMP holders will demand a refund and follow Greg as he continues working on the RChain project himself.
How long has this disagreement existed?
Many contributors to the AMP crowdsale are concerned that the project they believed they were investing in no longer exists, or perhaps never existed in the first place. Many AMP holders are wondering, "how long has this disagreement between Dor and Greg been fomenting and when did it become clear that they would be unable to work together?"
In an open letter, Greg suggested Dor did mislead investors.
". . .Dor had been luring me into making the token sale with him, using my good name, [and] my work. . .but without any actual intent to follow through on the specific promises he made to investors. . ."
Greg goes on to say that Dor's behavior has "left me little room for interpretation of his intentions all along" (emphasis added). "All along" implies that the disagreement between Greg and Dor stretches back before the crowdsale, although at time of writing, no one has found prior public evidence of the tension. The video released on bitcointalk provides some evidence for a contentious disagreement going back some months. If either Greg or Dor knew that they would be unable to deliver on their promises to investors within the time frame and the budget they described in the crowdsale, investors could make the case they were misled. However, it's not yet clear what laws would be the basis for a lawsuit.
Many are skeptical that Synereo will be able to deliver on the promises they made to realize their vision for RChain without Greg leading the development team. On the other hand, many think that Synereo can proceed without RChain, use a different technology stack, and continue under Dor's leadership.
Who owns Synereo's technology–Synereo, Greg, and/or the community?
Documents released early morning on Wednesday December 8th, 2016 in a blog post written by former Synereo core team member suggest that Synereo LTD owns the rights to all of the intellectual property created by its employees. This raises two questions relevant to the controversy.
1. Does Greg own RChain or does Synereo own it? Can Greg leave (or be kicked out) of Synereo and keep working on his tech stack–or does Synereo technically own it?
Eric notes that the consulting agreement he signed gave Synereo LTD rights to anything he produced, but he says (and provides evidence) that Greg signed a different IP agreement. Eric has called for both Dor and Greg to clarify the IP arrangements.
2. Is Synereo open source, decentralized, or something else? Eric's post suggests that Synereo billed itself as an open-source project while developing proprietary technology that wasn't actually open source. It's honestly unclear what to make of this. Synereo does not appear to use the words 'open source' in their marketing materials. Steem.it's codebase is open-source but under private license, but it is still considered a decentralized project.
On December 12, 2016, Synereo contacted us to clarify its commitment to being an open source project. To date, all Synereo assets on github are licensed under Apache 2.0, which grants permissive rights to freely modify, use, and distribute intellectual property owned by Synereo LTD. Among open source blockchain projects the Apache 2.0 license is not as commonly used as the MIT license, but it is largely comparable.
One major difference is that the Apache 2.0 license includes a section on patents. To put it simply, any formal contribution to the Synereo project, from an employee or a contractor or a community member submitting a bug fix, would be protected under the license as the property of Synereo. This does not prevent users from making and distributing changes to the code not intended to be a contribution to the Synereo project. This confirms that Synereo is indeed an open source project. They own the intellectual property rights to all Synereo technology, but under a license that grants permissive and free use of their assets to the public.
The Waves platform also uses the Apache 2.0 license.
One third of the originally raised $4.7 million are unavailable
Synereo's budget suggests it only has $3.1 million available from its $4.7 million crowdsale. This is one reason why a refund would leave investors with a 33% haircut. Synereo has stated that the other $1.6 million is attributable to a combination of chargebacks from Bank to the Future for hosting the crowdsale (that is, people whose payments were returned), already-spent expenditures on the crowdsale, Yunbi refusing to send the funds they raised, and "a yet undetermined amount of tax to be paid on AMPs sold, but budgeted according to our projected burn rate." Yunbi has not yet publicly confirmed, denied, or explained this claim, but it appears to amount to 638.65 BTC, worth approximately $400,000 when the crowdsale ended.
Note: Synereo's finances and AMP distribution have been publicly available for some time, though at time of writing, this does not include the costs or losses mentioned above.
Who controls the crowdsale funds?
Greg has made public statements about his concerns that Dor might mishandle the crowdsale funds. Of the $3.1 million that is left, the portion represented by BTC raised in the crowdsale is being held in escrow by Bitfinex. A final portion, in the form of USD paid out by Bank of the Future, is in a bank account held by Synereo LTD.
Given the stakes involved, all aspects of Synereo's finances will likely receive close scrutiny by the community1.
Four Scenarios for Synereo (pun acknowledged)
As of December 5th, 2016 four options seemed to be taking shape for Rchain, Synereo, and AMP holders. (1) a refund to ampholders (2) coin split (3) RChain + Synereo split into two companies (4) Synereo switches tech stacks and ousts Greg.
However, a December 7th, 2016 FAQ released by the Synereo team states that they no longer intend to build their product on the proposed Rchain tech stack. Instead, they will seek to oust Greg from the company and pursue using alternative tech stacks with the help of an in-house development team. This outcome would include Greg being forced out of the company with no seed funding.
On December 12th, 2016, the Synereo LTD shareholders voted to remove Greg Meredith from the Synereo project and proceed with option four: Synereo switches to a different tech stack. For historical reference, you can read more about the other options that were under consideration in an appendix at the end of this summary.
Synereo switches tech stacks: Shareholders chose this option. Greg has been forced out of the company without the possibility of receiving seed money to start an independent Rchain project. This constitutes a major setback for the development of Rchain, perhaps stalling the project for months or years. In this scenario if an Rchain project does eventually get off the ground, it seems unlikely that a collaborative relationship between Synereo and Rchain will pan out. This means Synereo would either have to finish development of Rchain itself, or jump to another tech stack.
What's Next? (as of December 12th, 2016)
Shareholder meeting to end Deadlock
CEO of Synereo LTD, Dor Konforty, has called for the shareholders of Synereo LTD to act as a 3rd board member and end the deadlock between himself and CTO, Greg Meredith. He has called a shareholders meeting to be held on Monday, December 12th at 8:00am PST via teleconference. The shareholders will vote on whether to cancel Greg's employment contract and remove him from the board. Presumably, they will also discuss adding one or more additional members to the board. At time of writing, the distribution of Synereo LTD shares among shareholders hadn't been released. Dor and Greg together control a majority stake, but it's unclear how many shares or shareholders Dor needs to remove Greg.
AMP holders will not have a formal role in the upcoming shareholders meeting. A proposal to form a community DAO to give AMP holders more of a voice in the negotiations was tabled in discussions on Monday, December 5th.
In response to this announcement, Greg posted an open letter to Synereo's Slack (Greg's post was removed seemingly by moderators but reposted by others). In the letter, Greg voices his support for a refund to AMP holders. Whether Greg will participate in the meeting is unclear.
Results of the Shareholders Meeting
Only 34 minutes after the start of the 8:00am PST shareholders meeting, Synereo announced that the majority of shareholders voted to remove CTO Greg Meredith from the board and cancel his employment contract. Greg will leave Synereo with no seed funding to continue his work on the Rchain project. Synereo will proceed with their social network using a different tech stack, yet to be determined. CEO Dor Konforty says that sign up for Alpha testing for Synereo will begin on December 25th, 2016 (call it a holiday gift) and that Synereo will release a revised development roadmap on January 20th, 2017.
According to Dor, only 0.5% of shares (not including Greg's own shares) supported Greg's continued involvement in the project. While Synereo LTD shareholders may have acted in relative solidarity, the response from AMP holders has been anything but unanimous. Some are relieved that a decision has been reached and are hopeful that Synereo may start making progress. Other contributors to the AMP crowdsale are miffed that they didn't get more of a say in the decision to oust Greg, given that it's their investment dollars funding the project. This is especially true for AMP holders who believed they were throwing their support behind the Rchain project, now essentially abandoned by Synereo. There are grumblings of possible legal recourse for AMP holders brewing in slack channels; however, Dor seems unfazed. He says he doesn't see grounds for any legal action.
Note: For any readers who might be interested in following the progress of the Rchain community, Greg's (at the time of writing) unincorporated "Ourchain" co-op has a new slack where you can track developments as they arise.
Note: Smith + Crown welcomes feedback if any of the above is factually incorrect. Our goal is to keep AMP holders informed and provide a third-party summary of developments. We will update this article periodically as the situation evolves. When we do so, we will date timestamp our update.
Special thanks to Jake Brukhman ofCoinFund, @followthechain, and Chris Padovano of Decentralized Legal for their helpful comments in writing this summary.
Update: we have amended a section of this report. We were asked to re-evaluate the reference to the early AMP distribution. Please see the note below concerning the AMP distribution to the early team.
1. For example, there have been concerns over 3 million AMPs given to Dor's sister, Nor Konforty for design work in the very early stages of Synereo. Synereo clarifies at the time this rate was negotiated, AMPs didn't exist yet. For reference, 3 million AMPs is only 3.5% of AMPs in circulation today and only .3% of AMPs in existence.
(see below for additional information)
The fighting over these issues will get likely ugly. There was considerable confusion during Synereo's second crowdsale about how many AMPs existed and who controlled them. Synereo ended up
burning 731 million AMPs
.
Update (4/24/17):
At the time of writing, several people in the community expressed concerns about this payment and we were trying to report those concerns in a rapidly unfolding situation. Recently the above observations about Synereo LTD's payments to Nor Konforty has received some attention by
members of the bitcointalk community
. In light of this, we'd like to offer some additional perspective on this issue.
Having family members help with early-stage projects (and compensating them for their trouble) is hardly unusual.
0.3% of the total supply of AMP is in line with equity compensation in early stage startups. Even strategic advisors can receive up to 1% of company equity. Early employees pre-funding can receive anywhere from 2 – 10% in equity, though there are no publicly recognized standards. Subsequent rounds will dilute this but not dramatically: if a startup experienced 25% dilution in four rounds of funding before IPO, someone who owned 5% seed stage would still own over 1%. Anecdotally, in the blockchain token sale industry, it is not uncommon for projects to charge anywhere from .5% of tokens to 5% of tokens, in addition to cash. .3% is also well within line with what project teams typically reserve for themselves in token sales: around 10-15% of tokens, split among founders and early team members.
Synereo is a leader in the blockchain industry for their transparency about their finances and token distribution. Few projects disclose team holdings or expenditures at all.
We have preserved the original phrasing because we typically don't redact portions of articles that serve as a historical accounts unless they are inaccurate. This statement is not inaccurate–but it wasn't intended to imply wrongdoing.
Refund: One obvious proposal is to issue a refund to participants of the AMP crowdsale. As detailed above, roughly $1.6 million of the $4.7 million raised is unavailable. So any return of funds would constitute only a partial refund to contributors–everyone would take a 17-33% haircut. In addition, it would leave both Synereo and Rchain without funds to move their projects forward. This would give each project (and AMP holders) the opportunity to "restart". Given the complexity of this controversy, this proposal has the advantage of seeming simple, however it would constitute a major setback for both projects as well as a significant loss to AMP holders. There are also many devils in the details of such a refund–who actually gets refunded and how much? A refund is the favored solution of CoinFund. Greg also voices his support for the position that crowdsale funds be returned to investors.
Coin Split to AMPs and Rcoins: A second proposal is to conduct the first ever "Coin Split" in which AMP would be divided into two completely independent currencies. Each AMP would be redeemable for 1 new AMP and 1 Rcoin. These coins would become the native cryptocurrencies of the Synereo and Rchain networks respectively. Many AMP holders made their investment decisions on the assumption that Snyereo and Rchain would be developed together by a single business entity. Now they are facing the possibility that two entirely independent companies will emerge with no guarantee of working together. A coin split allows AMP holders to individually decide how much of a stake they want to hold in Rchain and Synereo as each project moves forward.
An update to the proposal suggests that funds of the project be split according to the ratio of prices between AMPs and RChain after a sufficient period of time. The idea is that investors will signal their support for one project relative to the other by buying or selling AMPs and RCoin. CoinFund has pointed out that a coin split introduces "legal liabilities of the exotic variety" and that it would disadvantage both teams, making them "less likely to succeed in their respective endeavors". For these reasons they do not support this proposal.
RChain + Synereo split into two companies: A third proposal is that investment funds from the crowdsale be divided between the Synereo and Rchain projects, with each team continuing its own work. This could be achieved with or without a coin split. This has the promise of preserving funding for RChain and keeping it as the base blockchain for the Synereo social network. However, it would require restructuring the relationship between the Synereo team (social network) project and the RChain team (underlying blockchain) project. Both the Synereo and Rchain teams have released different proposals outlining how to divide the crowdsale funds and structure the relationship between the new companies.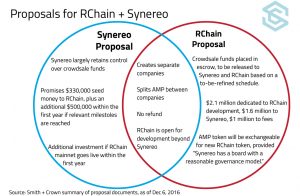 They have been unable to come to an agreement and negotiations have stalled.